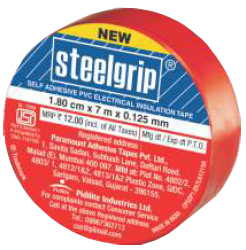 • Conforms to IS: 7809 (Part 3, Sec 1)
• Self extinguishing
• Protects from electrolytic corrosion
• Excellent water resistance
• Suitable for primary insulation up to 440V

Application Areas
Used in electrical insulation of wire joints in single and three phase wiring. It is used for insulation of wire joint of decorative lights, fans, home appliances, all kinds of electrical motors, resistors, capacitors, electrical circuits, transformers etc.
Technical Parameters
Colour
Black, Blue, Yellow, Green and Red
Width
As specified
Length
As specified
Total thickness of tape (mm)
0.1 to 0.15
Adhesion to steel (N/10mm width)
1.6 Minimum
Adhesion to backing (N/1Omm width)
1.3 Minimum
Tensile strength (N/10 mm width per mm thickness)
150 Minimum
Electrical strength at RT (kV/mm)
40 Minimum
Electrical strength after humid condition (kV/mm)
35 Minimum
Insulation resistance (Ohms)
l x 1011 Minimum
Available In :1.8cm x 3m, 1.8cm x 7m, 1.25cm x 9m, 1.9cm x 25m
Colours available : Red, Green, Blue, Black, White & Yellow.